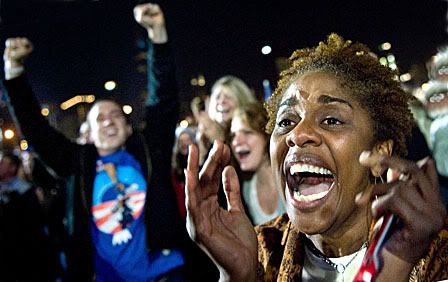 läst i facebook-forum:
"I dont know what the hell is going on. They are in the streets with shirts and hats and crying, blasting music. dude at mcdonalds gave me free food"

"I just shot fireworks off in my apartment...not a good idea.."

"MY PRESIDENT IS BLACK,,,,, We Goin Crazy n NC"

"We're having a party. We have Stevie and Earth, Wind, & Fire blasting"

"Holy crap talk about PEACE ON EARTH!!!
Free food at McDonalds?
I'm buying KFC for everybody! Fried chicken and hope all around friends!"

haha. gotta love 'em! fan vad känslan av hopp bara sipprar fram genom dataskärmen. alla obamaforums som jag tittat i under morgonen har liksom en "kriget-är-över"-stämning, folk är helt extatiska. det är svårt att inte påverkas!